OK. I think this is THE COOLEST award I've gotten so far....my inner nerd did a "woo hoo!" when I saw that Felicia over at
Go Graham Go!
gave me this WONDER WOMAN award!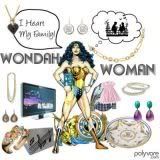 Felicia not only does great reviews, she's also starting up a new site with
free blog layouts
...I met her through
Entrecard
and she's been a great blogging buddy! I'd pass this award right back to her if I could, but where's the fun in that?
I am passing this award on to Lauren at
Restored 316 Designs
for the AMAZING blog layout she did for me, Keely at
The Un-Mom
just because she rocks, and Dana at
The Homesteading Housewife
because she's a frugal, farming, fabulous supermom!