Being a woman is a tough job! We shoulder loads that would make even the toughest man crumble like feta cheese in my salad. So after showering our loved ones with affection, why not show a little love to the one that makes everything hold together: YOU!
Simply Tempted
wants to help you pamper yourself the right way! Karen started her business 5 years ago with her husband, and created a luxurious line of all-natural products that are...well, simply tempting! Her product list reads like a dessert menu, but without the calories :) Visit her at any of her online shops (check out the sale!) or her blog!
www.simplytempted.com
www.simplytempted.etsy.com
www.simplyTemptedBathandBody.artfire.com
simplytempted.blogspot.com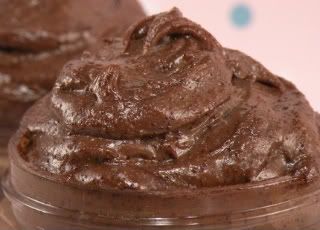 Her Chocolaty scented exfoliating body wash contains Shea butter and pure castile soap along with exfoliating pumice and apricot seed, to bring out the skin you had before stress took its toll.
Topped off with yummy brown sugar and vitamin E, and scented in the most mouth watering milk chocolate scent you could imagine, with a texture that screams a day at the spa.
(INGREDIENTS: castile soap, shea butter, ground pumice, apricot seed, cocoa powder, brown sugar, apricot kernel oil, vitamin e oil, fragrance oil)
Karen has generously offered up this deelish Chocolate Exfoliating body scrub, AND a bottle of her Marshmallow Chocolate Fudge 3-in-1 body wash! To win this spa-worthy gift set:
1. Visit her shop at
www.SimplyTempted.etsy.com
or
Simplytempted.com
, and leave a comment here about anything that has caught your eye there EXCEPT the product in the giveaway.
2. Post my giveaway button in your sidebar, leave a separate comment letting me know.
3. Subscribe to my blog via feed or email, or follow me on Blogger. Another comment, another entry!
4. Follow me on Twitter (link is in my sidebar) and leave a comment letting me know. An extra entry for each time you tweet this giveaway! (leave the tweet link in your comment please!)
5. BLOGGER BONUS: Earn another entry by blogging about this sponsor! If you love their stuff, spread the word and help them be even more successful! Comment with a link to your blog post for your entry to be counted!
Contest will end at 10pm EST on 3/2/009