I hope you all enjoyed visiting Kristen at
VeryKIKI
and Jen over at
Pink Polka Dots Bows
! But all good things must come to an end, and so here are the winners of the boy/girl giveaway!
For the Pink Polka Dot Bows clippies, the winner was: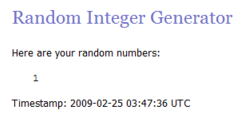 Amanda said...
Baby Onesie with a Brown Owl applique is so cute!!
girl giveaway
And for the veryKIKI Boy's necktie onesie:
Sarah said...
Boy or girl! I have one of each!
Hot pink with white piggies set is cute! The Short Sleeve Sky Blue Onesie with a Striped Car Applique - size 12-18 months - Olive Stripes is also really cute!
I will be emailing both of you shortly to confirm and arrange shipping. Thanks to everyone who participated!
(And don't forget -
VeryKIKI
is offering 15% off of any onesies order through Saturday 2/28 when you use the code "VALENTINE"! Happy shopping!)
Stumble It!