So by now you are probably at the bottom of the Valentine's chocolate box, when all that's left are those weird orange creme things and a few you're afraid to bite into because you really don't know what's inside. And you'd rather not think about the total number of calories that found their way out of the box and...yeah, I'll just stop there. But what if you could indulge in the taste of chocolate with none of the guilt?
Miapella Organics
offers natural and organic bath and beauty products! Their shop can be found at
www.miapellaorganics.etsy.com
or
www.miapella.com
(where you can find links to their blog too!) When I saw their Hot Chocolate Lip Balm I HAD to have some for my readers!
Melvin and Tanisha (the creators behind Miapella, and parents to EIGHT children!) were sad to find that so many of the products that claimed to be natural really weren't and many actually contained harmful ingredients. So with the encouragement (and a little pushing) from friends and family they set out to create a line of fun and healthy bath, body and hair care products. Thus Miapella was launched in 2008!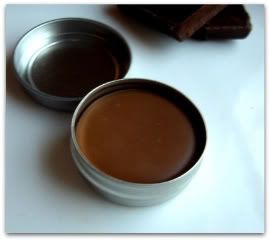 Great for those cold winter nights! Made with organic Cocoa Butter, Organic Macadamia Nut Oil, real dark chocolate and more! If you love chocolate you will love this! It's very soothing. Dark chocolate is full of antioxidants. Unrefined, organic Cocoa Butter is rich and the ultimate moisturizer. Macadamia Nut oil is healing and easily absorbed.
Tanisha was kind enough to offer her Hot Chocolate lip balm AND a 4oz jar of her Nourishing Butter! To win:
1. Visit their shop at either
www.miapellaorganics.etsy.com
or
www.miapella.com
, and leave a comment here about anything that has caught your eye there EXCEPT the product in the giveaway.
2. Post my giveaway button in your sidebar, leave a separate comment letting me know.
3. Subscribe to my blog via feed or email, or follow me on Blogger. Another comment, another entry!
4. Follow me on Twitter (link is in my sidebar) and leave a comment letting me know. An extra entry for each time you tweet this giveaway! (leave the tweet link in your comment please!)
5. BLOGGER BONUS: Earn another entry by blogging about this sponsor! If you love their stuff, spread the word and help them be even more successful! Comment with a link to your blog post for your entry to be counted!
Contest closes at 10pm EST on 2/25