Well we finally had to pick up a few things yesterday...or rather, hubby and the Boy Wonder took an excursion while mommy was at work...BW's favorite thing right now is "ride car...ride CAR....RIDE CAR!!!" Which is funny because his car seat may as well be the Iron Maiden, the way he flails and screams when we strap him in.
Anyway, after
last week's shopping
I am pretty well set up between the freezer and pantry, so here's what we need for the week:
Milk: $2.79
Eggs: $1.49
Yogurt: $1.99 (
But then my crockpotting hero figured out how to
make her own
! Bye Bye Yoplait!)
Bread: $0.75
Bananas: $2.86 (
big bunch
)
Waffles: $1.50 (
Looking for a good homemade recipe that freezes well...)
Carrots: $2.29
Butter spread: $1.79
Grand total: $15.46!
I have plenty of frozen veggies, potatoes, sweet potatoes and carrots to last a while, so I'm going to be planning our menus with as little to buy as possible. I need to get off my bum and do some more baking, too - I have mashed sweet potato and cans of pumpkin to make muffins with, but I've been totally beat at the end of the day....that may be a sign of something, but I'll save that for later ;)
I also decided to give the whole digital scrapbooking thing a try, in hopes of making our own photo christmas cards this year...Photoshop scares me (we have V7.0 not elements, so it's not as user friendly at first) and I had a hard time getting comfortable. But I found a REALLY basic
tutorial
over at
The Shabby Shoppe
that took me step-by-step through a simple layout...it was enough to finally make the program comprehensible for me, so I toodled around last night and came up with this: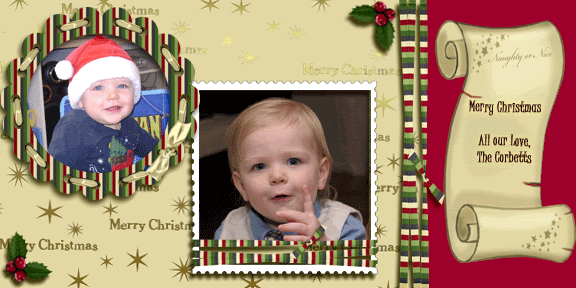 Those aren't the pictures I'll be using for the final cards, just a few that were near the top of the folders to play around with. Not bad for a first try!