I hate having to use a thermometer on my kids. Let's face it, there's nothing pleasant about having to put something....um...
down there
when your kid already feels miserable. And you can't tell an infant to
stop flailing your legs, or this could get ugly
.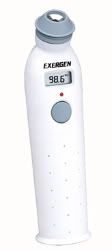 So I was THRILLED when given the chance to try out Exergen's Temporal Artery Thermometer! Their thermometer measures the body's core temperature from your temporal (forehead) artery. The results are as accurate as what you would normally get from a rectal temp. And because you are "scanning" the forehead, you can take your child's temperature even while they are sleeping!
The science behind it is pretty impressive:
"With a gentle stroke of the forehead it captures the naturally emitted heat from the skin over the temporal artery, taking 1,000 readings per second, selecting the most accurate. With its patented Arterial Heat Balance system the Temporal Scanner measures ambient temperatures, mathematically replaces the small temperature loss from cooling at the skin, and displays an accurate arterial temperature."
Temporal readings will be more accurate because the arterial temp reflects your body's true core temperature sooner than a rectal temperature, and a temporal scan isn't affected by movement (coughing, breathing, shifting position) as with traditional thermometers and ear scanners.
When I received my scanner, one thing impressed me - its simplicity. Single button operation, no disposable covers like with ear thermometers, and 2-second results mean that when I have a sick child and my nerves are frayed, I won't be fumbling with extra parts or waiting too long for results. We didn't have any illnesses in the house so we just had some fun testing it out on each other!
It was incredibly easy to use - just place the sensor on the center of the forehead, press the scan button, and move the sensor over to the hairline, and your temperature immediately displays. I even sneaked into my toddler's room one night to test him while he was sleeping, he never stirred! I wanted to test the accuracy, so I used it on my squirmy infant right after taking a rectal temperature - it was accurate within 0.2 degrees and my baby was a LOT more comfortable during the scan!
Exergen's Temporal Artery Thermometers retail for about $49.99 and are available at Walgreens, Wal-Mart, Costco, Drugstore.com, Babies R Us/Toys R Us and
http://www.baby.com/
. But one of my lucky readers will win a scanner of their very own!
For your first (and mandatory) entry, visit
http://www.exergen.com/
and share something you learned that wasn't mentioned in this post! Be sure to leave your email or blogger contact so I can reach you if you win.
For additional entries:
1. Subscribe to my blog via email or feed (comment if you already subscribe)
2. Follow me on Blogger (let me know if you already follow)
3. Add my button to your sidebar or blogroll page (or let me know if it's already there)
4. Blog about this giveaway with a link back to my blog, leave a link to your post in the comment (2 entries, leave 2 comments)
5. Become a fan of Exergen on Facebook!
http://www.facebook.com/pages/Exergen-TemporalScanner/37004097909
6. Follow me on twitter
@scorbett
and tweet about this giveaway! Leave a link and your twitter name in your comment.
You can tweet this contest once a day! Copy and paste this text:
RT: WIN a Temporal Artery Thermometer from The $200 Mission! @scorbett ENDS 9/25 http://tinyurl.com/psvegt
Contest will end at 10PM EST on Friday, 9/25. Winner will be chosen via Random.org, notified via email and will have 72 hours to respond before a new winner is chosen. Sponsor will ship prize directly to the winner.
Stumble It!