I'll get to the braineaters thing in a minute :)
Did a check on the grocery budget for the month, and I'm actually doing a LOT better than I thought.
TECHNICALLY
I'm pretty over my budget goal, I ran the report today and we've spent $258 in groceries/supplies this month. I still have a week left and will probably have to pick up diapers before month's end, so I expect to be close to $300 for the month before we get to May....
HOWEVER - don't forget that this amount INCLUDES extra shopping that I've done for my
Once a Month Cooking experiment
- so while I am a bit over budget this month, I was really buying for TWO months...I did manage to get everything made for the freezer without killing myself so I will definitely be making up another OAMC plan for May cooking, but I won't have to buy nearly as much week-to-week stuff as I did this time around. It will take a few months to really see whether this method works for me budget-wise, but so far it's looking promising!
Now on to the fun stuff...
Hubby and the Boy Wonder went on an excursion to the
Children's Museum in Easton, MA
yesterday. The kids LOVED it there, they have a train setup right when you walk in the door so BW was hooked :) It's not as big as the Boston or Providence museums, but there's a ton to do and they could have stayed and played for the entire day if schedules had allowed...Hubby told me there were LOTS of activities for big and small kids, which will put this on our short list of field trips in the future.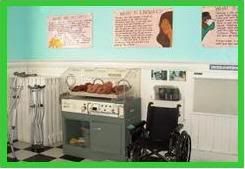 Anyway, apparently on the 2nd floor they have some neat play areas, including a doctors office and a luncheonette. My little man ran straight for the Doc's office (great, I thought! Med school here we come!) and grabs this:
Yes. That is a pint-sized model of a human brain. And my darling little boy noshing on it like it's a ham sandwich. As hubby is telling me this, I am starting to wonder if maybe we shouldn't let him watch "Nightmare Before Christmas" anymore... Fine, he's eating a brain. A little oogy, but cute...until I find out that he took the brain with him to the next play station and hubby found him doing this:
Oh boy. Waiting for the calls from DSS on this one. He actually brought it over to the luncheonette, grabbed a spatula, and went about making some fried brains. I SWEAR I have NEVER let this child watch Silence of the Lambs.
*sigh*
Think they've found the cure for the weirdo gene yet? Cause now I'm starting to worry about the baby-on-the-way...these two could rise up and kill us all....
Stumble It!