Man...first trimester pregnancy is DEFINITELY in full swing! I have been a total space cadet this past week, slacking on postings, running out of steam at the end of the day... MUST. FIGHT. BACK.
So since today is my birthday (I'm 28....for the 7th time...no really) I thought it would be a good day to whup my sorry pregnant butt back into bloggy shape. Here's the game plan for this week:
*Get Menu Plan Monday post done tomorrow. I have to make a viable shopping list tonight and I'll be hitting up the stores early tomorrow to get everything done before our Doc's appointment. With a little luck, the Boy Wonder will give me enough naptime to get the post AND the recipes up!
*Put up another Bricklaying post - I'm almost to the end of the old posts and need to start some new ones for the series...brainstorming time!
*Share some of the great blog posts I have been reading over the last several weeks. I can access my Google reader from work but not Blogger, so until we got our computer back I was a hapless bystander in the blogosphere. But I flagged some good posts with info worth passing along, I just need to organize!
*Buy maternity pants. Apparently my body is having TOTAL RECALL and decided to expand nice and early. Ugh. Not blog related, but I needed to vent :)
I did a quick budget check with my online banking, and as of now I've spent $148.88 on groceries (which, by the way INCLUDES toiletries, paper goods and diapers) - that leaves me with just over $50 to spend if I want to stay within the $200 mark, but with only 12 days left in the month that is actually within reach. There are some good meat sales this week so I might choose to go over budget a little, just to add to the freezer stock.
Tomorrow we have our first ultrasound! I'm hoping the Bean takes some good photos so that I have something to share :)
And I actually had a
date night
with my husband on Saturday! We finally got to use some Cheesecake Factory gift cards that have been gathering dust in my desk, and my mother in law took the Boy Wonder for a sleepover....oh the joys of ACTUAL adult time! We got there and were told that it was an hour and a half wait...if we weren't going to be eating basically for free I might have opted for another restaurant. But then I realized that the waiting area is also where the
cheesecake bakery display
is. So I did what EVERY birthday girl should do....I bought a slice of cheesecake and had dessert before dinner :) Key lime cheesecake....ooh the yumminess :)
We had a chuckle when the meals arrived - I ordered the Miso Salmon, which (according to the menu) came with "snowpeas". To me, this means a side portion of veggies. But this is what arrived to the table:
FIVE snow peas. Was I wrong to feel a little jipped?
Here's a fuzzy pic of hubby laughing at my snow pea disdain: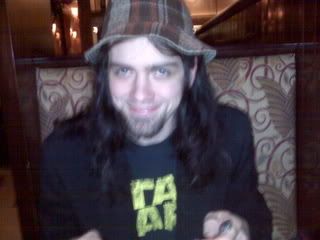 And here's my birthday present!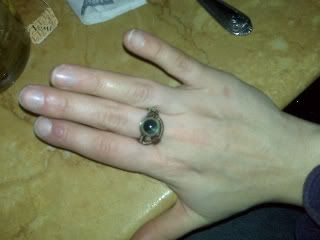 It's a steampunk-style ring from
Catherinette Rings
- I've been admiring his designs for months now and was pleasantly surprised that hubby was paying attention :) Be sure to stop by his Etsy shop and check out his work! You can also read his
Steampunk Rings blog
for new design info!
Wish me luck, I need to go make a shopping list!