I don't normally like to complain, but Frosted Mini Wheats, you have let me down once again.
I love your crunchy sweetness, and the way you hold just enough milk to whet my whistle during breakfast...but EVERY time I open one of your big yellow boxes, I know what's waiting for me at the end of the journey: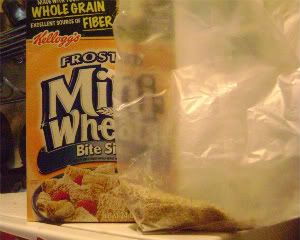 That's almost 3/4 of an inch worth of Mini Wheat dust at the bottom of the bag...bound for the trash bin instead of my cereal bowl. Now, I completely understand that shipping and man-handling will cause SOME cereal to get damaged. But I also know that I can go to my local Price Rite, Stop & Shop, or even Wal-Mart and buy the generic store brand (for at least half the price) and get more ACTUAL CEREAL in the box.
I actually decided to take out ye olde food scale and see just how badly I was getting gypped: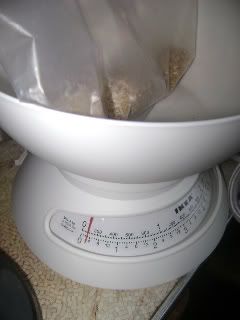 Do you see the dial? FOUR OUNCES. That was from a 24-oz box of cereal. One-sixth of my cereal was totally unable to be eaten - and at full retail price (about $3.75 per box), that means $0.62 of my hard earned dollar is flushed down the toilet. And we all know every penny counts!
Dear Kellogg's, take a cue from your generic competitors - SAVE THE CEREAL!!!
Stumble It!